Introducing climbing frames to your small garden can be a game-changer for your child's development. These outdoor play structures provide hours of entertainment and promote physical activity, fine motor skills, and imaginative play.
In this guide, we'll showcase some of the very best climbing frames for small gardens, compact outdoor spaces and tiny yards. So put your feet up and watch as your little ones embark on exciting and imaginative adventures!
Can you have a climbing frame in a small garden?
Think your garden is too small for a climbing frame? Well, think again! Careful planning makes it possible to house a climbing frame, even with a smaller space. Choose from a range of outdoor climbing frames that not only slot nicely into your garden - but will keep little ones entertained for hours, too. The benefits of outdoor play are endless, and there are plenty of way to get your kids outside, no matter the size of your garden.
Decking out your garden with a climbing frame will not only put a smile on your children's faces, it'll open up a world of possibilities. Whether hosting birthday parties, BBQs, or summer soirees, you name it, a climbing frame will be the talk of the town. 
If you're unsure about what to look for when shopping for outdoor climbing frames for small gardens, here are some tips to help you make a choice:
Measure the space:

Begin by measuring the available area in your garden. This will give you a clear idea of the dimensions you have to work with.

Choose a compact design:

Look for a compact climbing frame that is specifically designed for smaller gardens.

Consider multi-functional frames:

Some climbing frames come with additional features like

playhouses

,

swings

, and

slides

, which can help maximise the use of space.

Opt for a wall-mounted frame:

If space is minimal, consider a wall-mounted climbing frame. This type of frame can be attached to a wall or fence, saving ground space.

Utilise vertical space:

If your garden is small, consider tall structures. This could include a climbing tower, wall, rope ladders, or monkey bars that make efficient use of height.

Avoid overcrowding:

While you want to provide a fun and engaging play area, it's important not to overcrowd the garden. Leave enough open space for other activities and for children to move around comfortably.
It's important to remember that even in a small garden, children can have a lot of fun and exercise. Selecting a climbing frame that fits your small garden perfectly, you can create a safe and enjoyable play area suitable for kids of all abilities and confidence levels. Meanwhile, you can put your feet up knowing they'll sleep well come bedtime!
Not sure your kids will love a climbing frame? There are plenty more ideas for small garden play areas out there that your children will adore.
The best outdoor climbing frames for small gardens
1. PolarPlay Kids Scandinavian Style Climbing Platform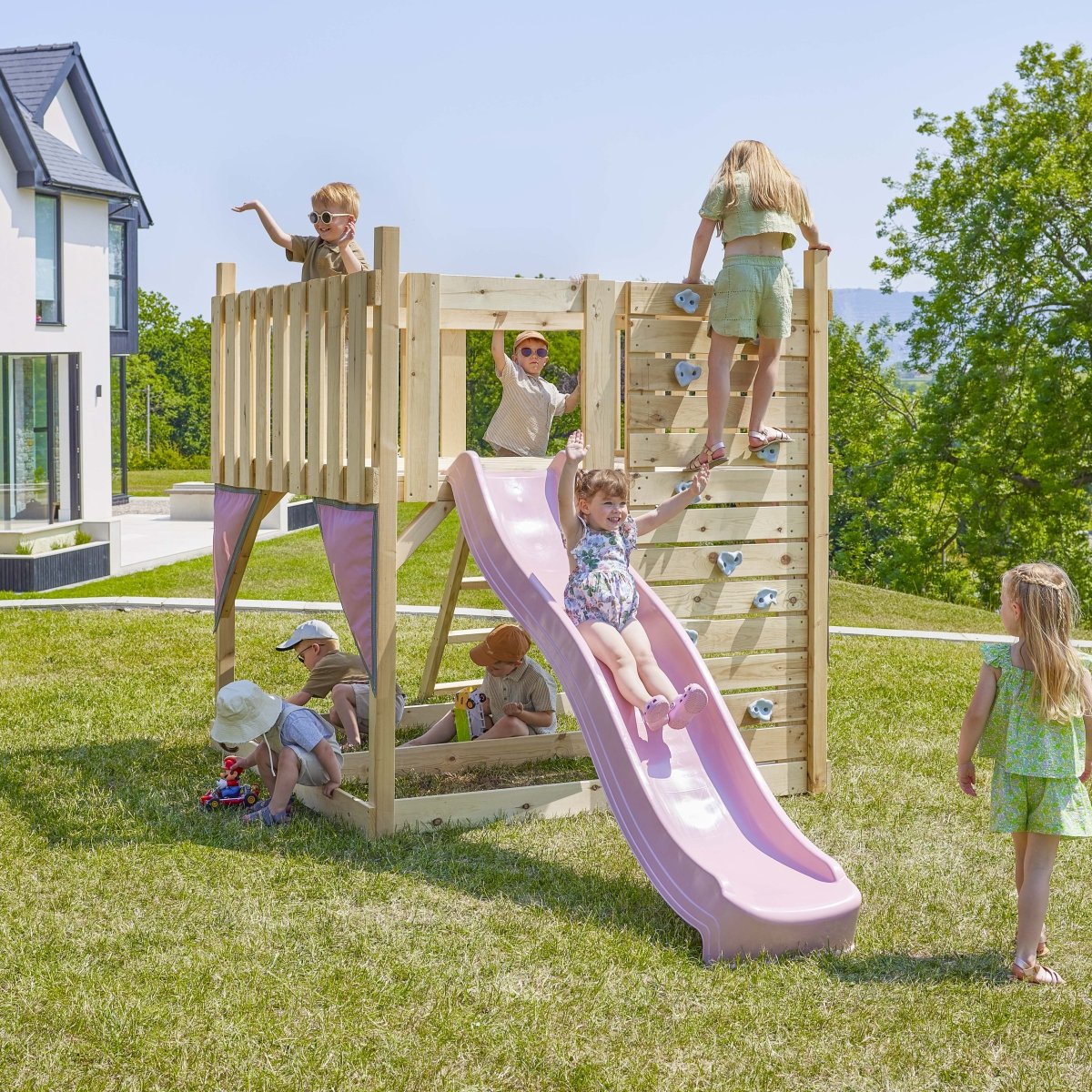 Price: £609.95
The PolarPlay Kids Climbing Platform is an exceptional choice for small gardens, tailored to maximise the potential of compact outdoor spaces. Its design draws inspiration from the sleek lines and functional aesthetics of Scandinavian and Nordic architecture.
Despite being compact, this climbing platform offers a wealth of engaging activities, including a vertical climbing wall, an exhilarating 8-foot slide, and a sturdy wooden ladder - all neatly tied together with a sandpit underneath. So they'll never be short of imaginative scenarios to make up!
These fantastic features allow for dual functionality, making the most of limited garden space. 
By converting the space beneath the platform, this timber climbing frame transforms into a multifunctional play area, catering to a range of activities.
Key features:
Vertical climbing wall with foot grips

Includes an 8ft (220cm) slide

Spacious open platform

Equipped with a sturdy wooden ladder

Additional space underneath for optional sand pit

Compatible with PolarPlay Playhouses designed to fit on the platform
Dimensions:
2. PolarPlay Tower Kids Wooden Climbing Frame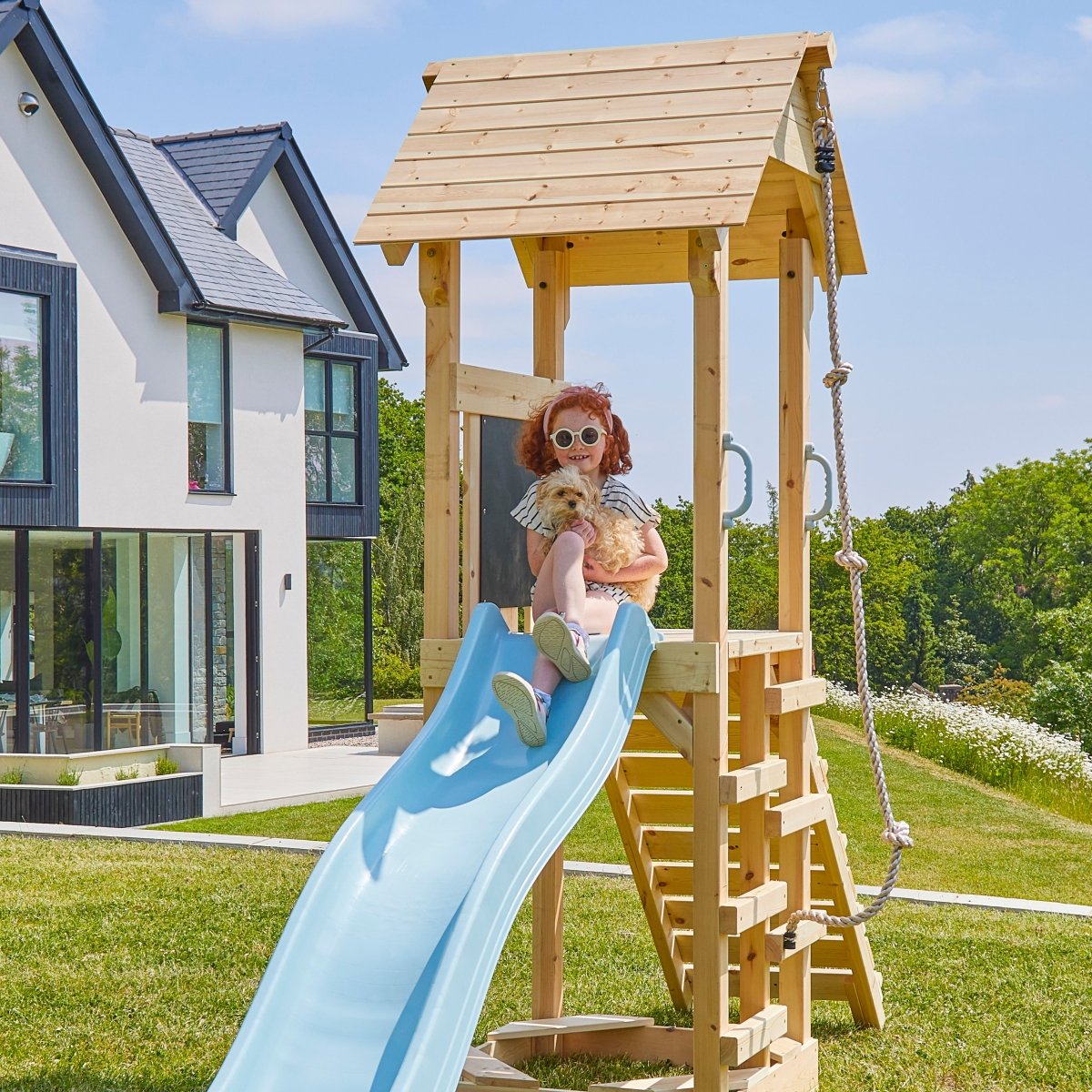 Price: £549.95
The PolarPlay Wooden Climbing Tower is designed specifically to make efficient use of space. Despite offering multiple access points and activities that allow children to build up their climbing skills, it still maintains a relatively compact size to suit small gardens. Children can ascend via the staggered wooden ladder, the ramp, or the knotted rope ladder for those seeking a more exhilarating challenge.
The 8-foot slide adds another element of excitement to your children's playtime. Watch as they climb to the platform using one of the many access points, then enjoy a thrilling descent down! This one is guaranteed to get those hands in the air! 
Overall, the PolarPlay Tower Kids Wooden Climbing Frame is thoughtfully designed to provide engaging play opportunities for those with little gardens. Its multi-access design, skill-building elements, and safety features make it the perfect choice, ensuring your little sprogs can play big in a small space! 
Key features:
Crafted from high-grade solid timber

Solid wood roof, which adds an extra layer of charm

Equipped with a climbing rope

Offers multiple access points: staggered ladder, ramp, and grab handles

An 8ft (220cm) slide for thrilling descents
Dimensions:
Weight:

50kg

Length:

357cm

Width:

112cm

Height:

273cm
3. 4 Monkey Bar Adventure Pack
Price: £79.95
If your garden is the most spacious, our Monkey Bar Adventure Pack presents multiple climbing options. It's crucial to make efficient use of the available area in smaller garden spaces. This adventure pack is designed to provide a wide range of engaging activities without taking up excessive room. 
The inclusion of a knotted climbing rope and monkey bars emphasises vertical play. Playtime is extended without compromise in gardens where ground space may be limited by concentrating the activities upwards and not horizontally.
The Adventure Pack offers so much excitement for children with varying physical abilities. From swinging on the monkey bars to navigating the climbing wall and rope, children have multiple active and dynamic play options.
Key Features:
Compatible exclusively with Rebo 4 rung round wood Monkey Bars

Cargo net

Extra bracket and wood: Essential for creating a sturdy frame for the cargo net

Knotted climbing rope: Offers an alternative climbing challenge

Attachment for rope: Ensures secure placement of the climbing rope
Dimensions:
4. Rebo Challenge Wooden Climbing Frame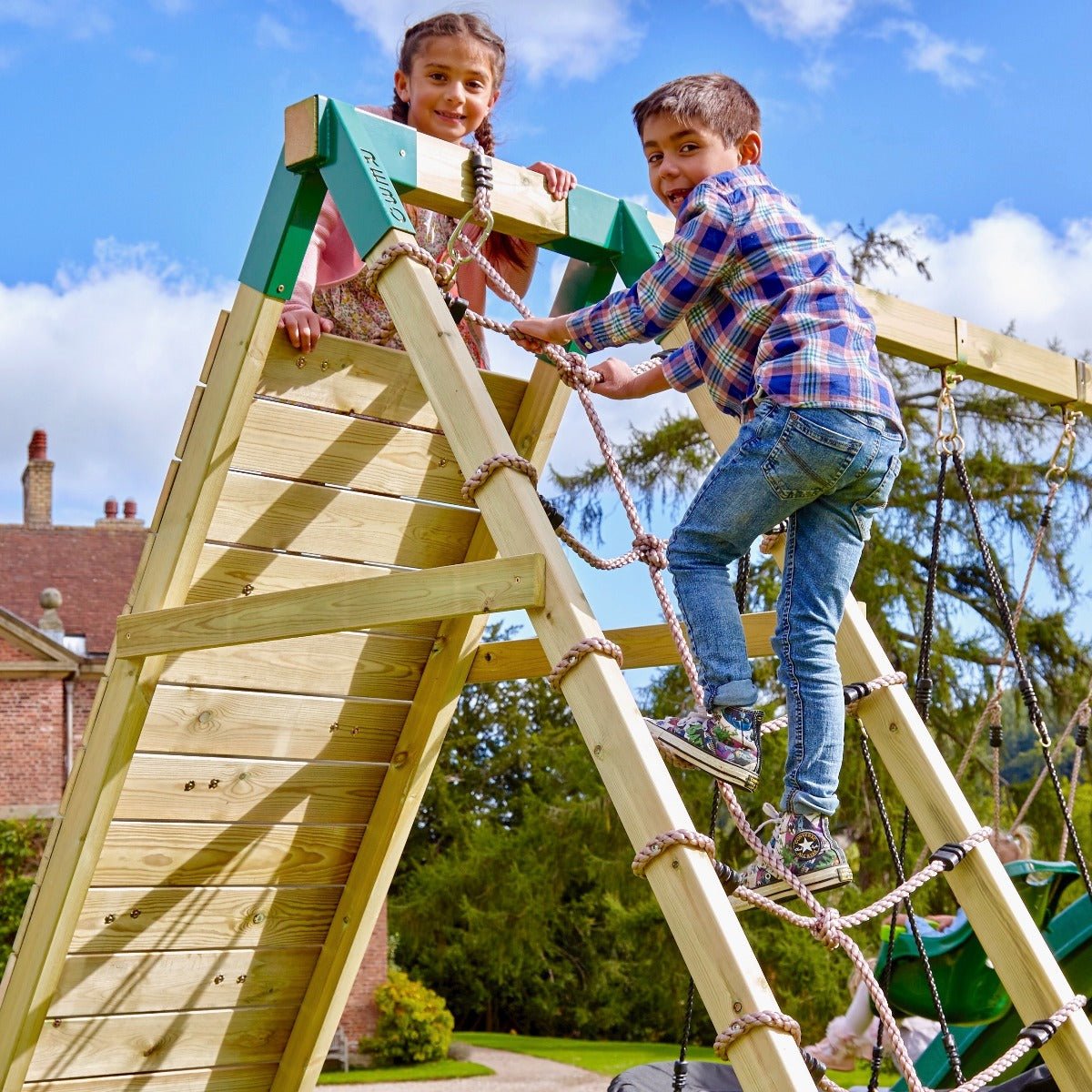 Price: £699.95
The ever-popular Rebo continues to push the boundaries of innovation with its latest addition to the climbing frame catalogue. The Challenge Climbing Frame features a robust climbing tower complete with a swing arm and an up-and-over climbing wall.
True to Rebo's commitment to quality, these new wooden climbing frames are crafted from pressure-treated timber. Making it durable and weather-resistant, promising years of joy and physical activity for your little ones.
The climbing tower's design utilises height with its elevated platform and up-and-over climbing wall (for the super adventurous). Giving children the freedom to let their imaginations run wild! 
Better yet, this wooden climbing frame is a small garden's best friend! Even if your back garden is short on space, your kids can have all these incredible features with a Rebo climbing frame.
Key Features:
8ft slide

Up-and-over climbing wall

Climbing wall with climbing stones

Cargo net

All-weather tarpaulin roof / Option for upgraded wooden roof

Pressure-treated wood

Accessories with adjustable ropes

Ladder to platform

Small rock wall to platform

Sand Pit
Please note: Canvas cutting is required for roof installation as part of the assembly process.
Dimensions:
Platform Height:

120cm

Slide to ladder length:

329cm

Climbing wall to ladder wall length:

240cm

Width:

285cm
Weight per user:

50kg

Main timber uprights:

7 x 7cm, providing a solid foundation for the climbing frame.
*Refer to the dimension drawing for more precise measurements
5. Rebo Mini Wooden Climbing Pyramid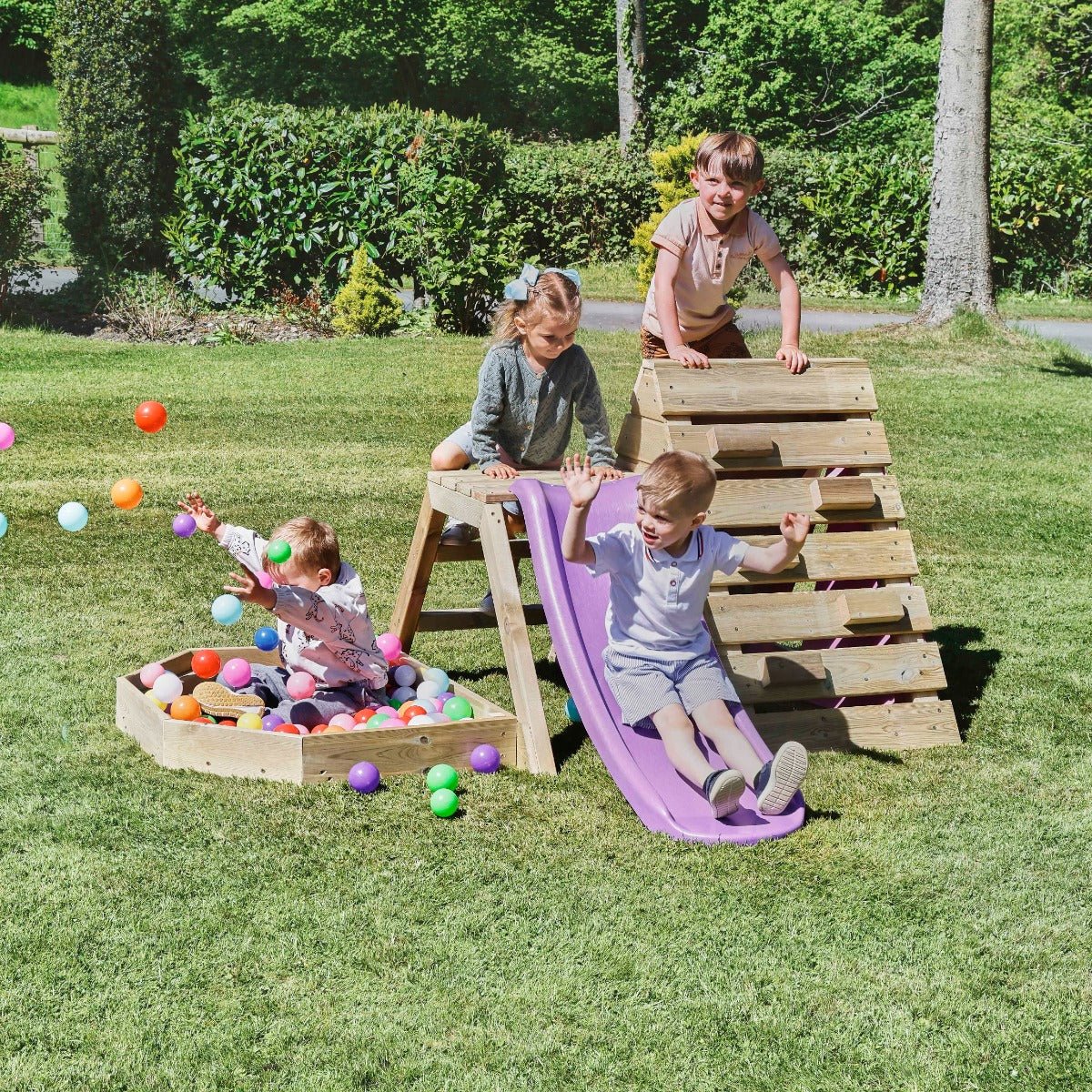 Price: £274.95
The Rebo Mini Climbing Pyramid is tailor-made for adventurous children, both adaptable and compact, making it an excellent choice for small gardens.
What's more exciting than a pyramid? Designed with chunky wooden climbing holds on one side and vibrant climbing rocks on the other, this climbing frame is perfect for small hands and tiny feet. 
So, whilst your kids are having a wild time, this frame also promotes muscle development and enhances hand-eye coordination - the best of both worlds!
What's more, you can transform the space beneath the pyramid climbing frame into a hidden play area (beware, this area is for kids only - no adults allowed!). Complete with a window for peeking out, it becomes a delightful hiding spot for games like hide and seek and hide from Mum!
The fun doesn't stop there. The pyramid comes with optional add-ons such as a mini slide platform, a sandpit and a ball pool. So you can keep them entertained for hours whilst you crack on with the hoovering!
Key Features:
Colourful climbing rocks

Chunky wooden climbing holds

Pressure-treated solid wood

Den pack included

Strong canvas

Single window

Suitable for younger kids with parental supervision
Please note: Tools, including a drill, are necessary for assembly. Full instructions are provided to guide you through the process.
Dimensions:
Weight:

50kg

Length:

140cm

Width:

112cm

Height:

89cm
Why choose a climbing frame from Outdoor Toys?
If you're looking for the perfect climbing frame for your small garden, you'll find everything you need and more here at Outdoor Toys! We have a fantastic selection of high-quality, compact climbing frames for your little ones to enjoy, come rain or shine. 
Whether it's a multi-purpose jungle gym or an indoor climbing frame for those wet weather days, we've got your back. 
Keeping kids safe on climbing frames and while playing outside is our number one priority, meaning all our climbing frames are made from high-quality, long-lasting materials that undergo the proper testing, ensuring your kids are safe. 
With 48-hour delivery and the option of 0% finance for qualifying orders, transforming your small garden play area is now quicker and more affordable than ever before! For further details, please visit our delivery and PayPal credit pages.
FAQs about climbing frames for small gardens
Can you put a climbing frame on grass?
Yes, climbing frames can be safely installed on grass. However, it's important to prepare the area beforehand. 
Clear away any rocks, branches, or other debris that may be in the way. If the ground is uneven, try to level it with a suitable base material. This will help ensure a stable foundation for the climbing frame.
What safety precautions should I take when installing a climbing frame in a small garden?
When installing a climbing frame in a small garden, there are a few safety precautions to keep in mind:
Two-metre perimeter:

Make sure there is a minimum of a 2m perimeter around the climbing frame. This provides enough space for safe play and prevents collisions with surrounding objects.

Secure anchoring:

Ensure that the climbing frame is securely anchored to the ground. This prevents any potential wobbling or shifting during play.
Are climbing frames suitable for different age groups?
Yes, climbing frames are designed for all age groups. Many models come with adjustable features or offer play options that accommodate children of different ages. 
Some climbing frames may include elements like lower-level playhouses for younger children, as well as more challenging features for older kids.
Can I customise a climbing frame for my small garden?
Absolutely! At Outdoor Toys, our climbing walls and frames can be customised with cool features and climbing frame upgrades. This means you can adjust certain aspects of the climbing frame to suit your garden's layout better. Customisation options may include selecting different types of swings, slides, or other accessories. 
We're all for customisation and making your toys your own! Why not check out some of our small playhouse interior ideas for inspiration on how to make your kids' garden somewhere for their imagination run wild?
Do climbing frames come with warranties?
Yes, our climbing frames all come with warranties of varying lengths. These warranties typically cover defects in materials or workmanship for a specified period. It's important to review the warranty before purchasing so you can understand the terms and conditions.