Calling all creative parents and pint-sized decorators! Are you thinking of ways to modify your kid's playhouse to make it unique to them? Well, look no further.
From enchanting fairytale themes to cosy, kid-friendly furniture, we're full of great small playhouse interior ideas that will transform their space into a place of endless fun and make-believe.
So roll up your sleeves, grab your paintbrushes and add creative touches to the new playhouse! If your kids are old enough, why not let them decorate alongside you? You can collaborate, share ideas (though we're guessing theirs will come out on top) and spend quality time together.
Ideas for how to decorate the inside of a playhouse
1. Paint your wooden playhouse
If you opted for a wooden playhouse over a plastic playhouse, a great way to let some of your child's personality shine is by painting it.
Painting the exterior walls in playful shades like baby pink, sunshine yellow, or mint green will give the wooden playhouse a whimsical touch. Let your child choose their favourite colours and get painting together! For classic contrast, you can complete the look with white trim and window frames.
2. Add colourful curtains
When it comes to the playhouse's interior, why not start by picking out some colourful curtains to hang on the window? Adding curtains can turn an ordinary space into their own little hideaway, where they can curl up with their favourite books, dolls or action figures.
Plus, even little adventurers need some private time now and then. Playhouse curtains will give your kids the freedom to create their sanctuary. They can close the curtains and enjoy moments of solitude or have secret meetings with their best buddies. It's their own mini VIP zone!
You can also rest easy knowing they're protected from the sun when they're playing on a particularly hot summer's day.
3. Buy some kid-sized furniture
Investing in kid-sized chairs and tables for their playhouse will transform the space into the ultimate den of comfort. No more feet that can't touch the floor or hands struggling to reach the table!
To keep it budget-friendly, why not head to your local charity shops with the kids in tow to pick out some quirky bits of furniture?
Once their space is fully furnished, your kid can even throw their first playhouse pizza party (try saying that five times fast). They can play the perfect host or hostess with indoor furniture, serving imaginary treats using wooden kitchen toys. Who knows, maybe they'll invite you in for a slice.
4. Make the playhouse extra cosy
To make the wooden playhouse even cosier, fill it with soft furnishings like fluffy cushions, colourful blankets and squishy bean bags. These additions mean your little explorers can relax and recharge between energetic play sessions.
Soft furnishings also transform the playhouse into the cutest little reading nook. Imagine your child diving into a world of books, surrounded by the softness of pillows and blankets. It's like their own little library on a cloud where they can snuggle up and dream big!
And let's remember how we viewed pillows and blankets as kids. Once they've recharged, soft furnishings can become essential props, transforming the playhouse into a pirate ship, a royal castle or even a secret superhero hideout. Everyday items become versatile building blocks for endless imaginary scenarios, providing a soft and safe backdrop for epic quests and creative games.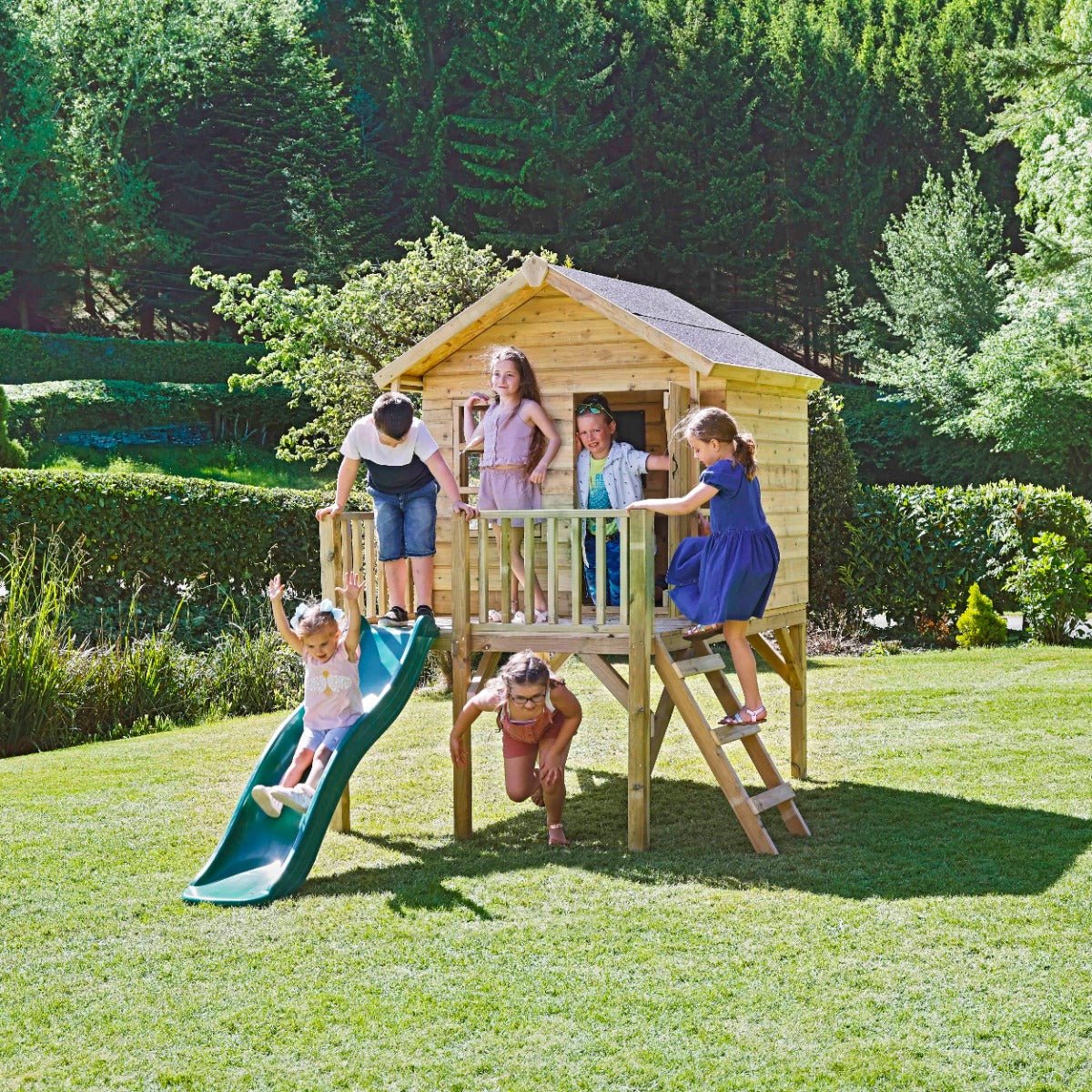 5. String some fairy lights
A home is only complete with warm, inviting lights. Consider some outdoor lighting to take your outdoor playhouse decor to the next level.
Fairy lights will give your child's playhouse a soft glow as the sun sets. There's no better backdrop for tea parties and important gatherings than under the welcoming warmth of those twinkling lights.
These sparkling lights can also bring a sense of wonder and whimsy to your little one's playtime. They're like tiny stars that guide their imaginative adventures, whether they're a captain on a ship with only the sky to steer them to shore or a princess stepping into a fairytale with fairy lights leading the way to their castle. Speaking of fairy tales...
6. Dream big with a fairytale theme
Transform the outdoor playhouse into a fairytale kingdom. Adorn the exterior with enchanting elements like the twinkling string lights we've just mentioned and a small playhouse picket fence. Brainstorm a kingdom name with your little ones so that they can hang a sign above their imaginary land.
And let's not forget the fun they'll have dressing up! A fairytale theme provides the perfect excuse for your little one to don their finest princess gowns or knightly armour. They can become the heroes and heroines of their own extraordinary tales!
Add some fairytale characters and magical creatures in the form of art and toys like butterflies, unicorns to ride, and dragons to battle to complete the fantasy feel.
7. Personalise your kid's playhouse with artwork
Let your child's artistic side shine by encouraging them to create artwork for their playhouse. Hang their masterpieces on the walls or attach a washing line to display their drawings and crafts.
It'll put a unique twist on the outdoor playhouse and show your children just how proud of their creative work you are!
8. Plant a miniature garden
Transform the surrounding area of the playhouse into a mini green paradise. Add vibrant potted plants, hanging baskets and wooden planters to turn the playhouse exterior into a blossoming wonderland for your budding botanists.
Incorporating planters into their space gives your child a hands-on opportunity to learn about plants and gardening. They can nurture their green thumb, learning about the magic of photosynthesis, the importance of watering and the joy of watching plants grow and flourish.
Complete the kids' little botanical garden with outdoor furniture like a picnic table sandpit so they can enjoy their sandwiches and ice cream in summer as they watch their little flowers grow!
9. Remember shelves and storage
Providing the playhouse with shelves and storage will keep the play area neat and organised. With designated spots for toys, books and playtime essentials, you'll save precious time hunting for that elusive favourite toy and create a space where everything has its rightful place.

Adding shelving units creates an opportunity to display exciting discoveries. Your child can curate their own collection of treasures - seashells, action figures, or cherished trinkets - and place them below the window to show them off.

Another swashbuckling idea for playhouse storage is incorporating a kid's treasure chest. It's a fun way to encourage your kids to stash their treasures (their toys) after playtime, so you're not picking up after your pirates!
10. Add finishing touches
Add some finishing touches to go the extra mile with your playhouse interior decor. It can be anything from a personalised sign for the playhouse, displaying your child's name in fancy letters or using wall stickers to hanging a Home Sweet Home sign on the door.
Why not use different window decals for different seasons to make it festive and inviting all year round? You can have snowflakes drifting down to the cabin floor near Christmas and cute Halloween creatures waving through the windows in October.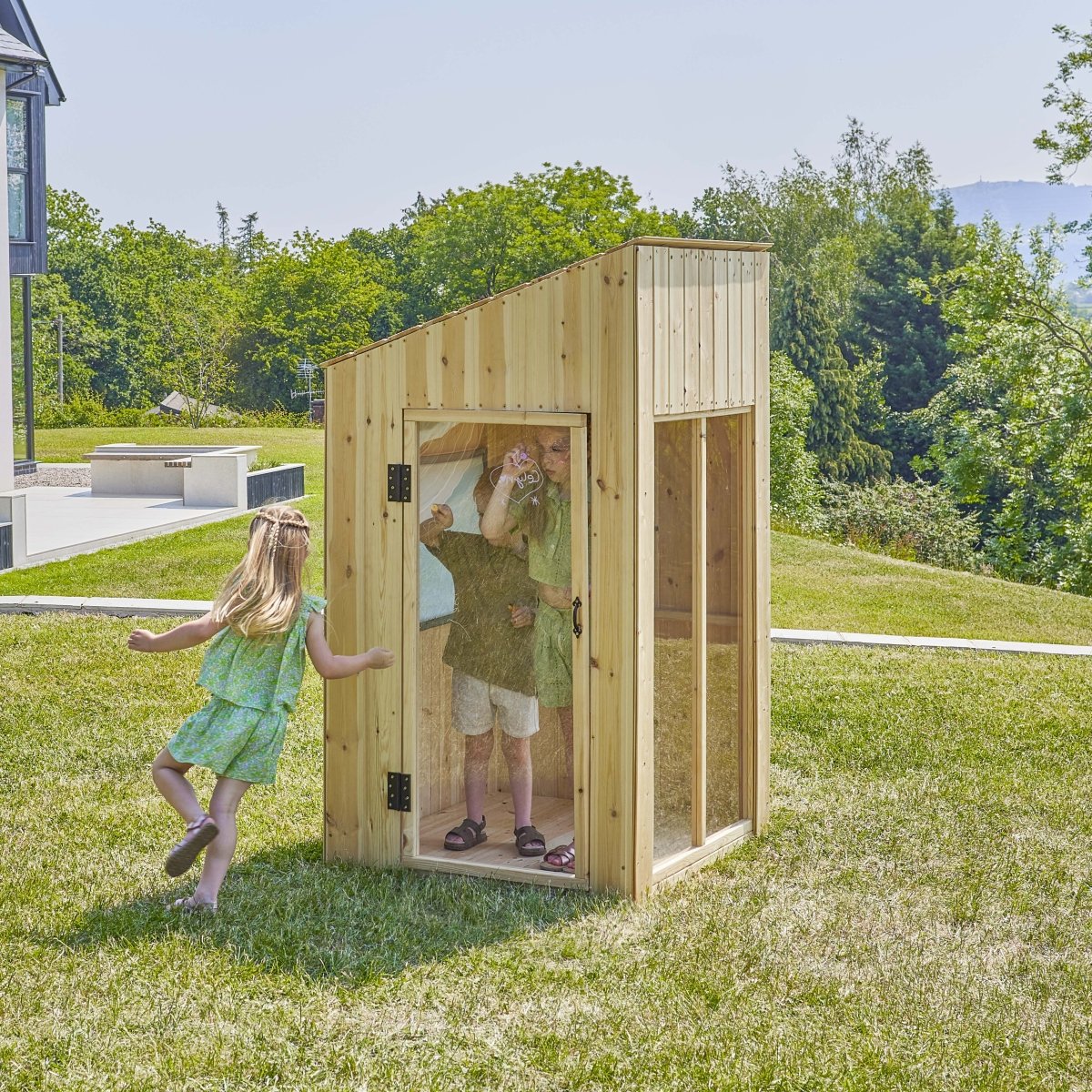 Outdoor Toys playhouses
At Outdoor Toys, we offer a vast range of playhouses. Whether it's a Scandinavian-style playhouse with floor-to-ceiling windows or a unique adventure den with decking and a slide, we make all our wooden playhouses out of durable, long-lasting materials. Our top priority is ensuring your children have the best and safest experience possible while playing!
For big families, we also stock two storey playhouses that will create a thrilling den for multiple children, as well as our cosier 4ft playhouses and 5ft playhouses.
Find your kid's dream playhouse with Outdoor Toys
Look at our fantastic collection of wooden playhouses for kids, built with sustainability, safety and fun in mind. Find the ideal playhouse on our site today for fast, free UK delivery on most orders!
If you already have a playhouse, why not upgrade your garden playground with swings, slides, climbing frames, or a lookout tower? Whichever of these upgrades you choose, it'll give your little ones a mega dose of excitement, imagination and active play. Get ready for endless giggles, soaring adventures and unforgettable memories.
FAQs about kids' playhouses
What is a playhouse?
A playhouse is a small, specially-designed structure that provides kids with a dedicated space for imaginative play and outdoor fun. It's like a mini house built specifically for kids, offering them a world to let their imagination run wild.
A playhouse is also an opportunity for you, as a parent, to engage with your child's playtime. You can join them on their adventures, encourage social interaction with friends or observe as they explore and learn. It's a chance to bond with your child and create memories they'll cherish.
If you plan on making your children's playhouse dreams come true, it's time to gather some ideas on modifying it to make it unique to them. This fun project will turn a wooden playhouse into a mini home (not far) away from home.
What's best to put inside a playhouse?
Since the furniture and accessories you put inside your child's playhouse will likely remain outside for most of the year, ensure you choose things made with hard-wearing, weather resistant materials. Chairs and tables made from recycled plastic or treated wood will be more durable than ones with fabric cushions. 
Things like toy kitchen sets are ideal for budding young chefs, while an afternoon tea set will let your kids invite all their favourite teddies and dolls for a private picnic!
What do you put under a child's playhouse?
The best materials to put under an outdoor playhouse for safety and durability are:
Rubber mulch

Sand

Pea gravel

Wood chips/wood mulch

Engineered wood fibre (EWF)
What is the best age to buy a wooden playhouse?
Playhouses are perfect for any child above the age of 3, though you can buy one sooner if you're happy to supervise your kids whenever they play in the house.
How do you hang curtains in a playhouse?
If you've bought a wooden playhouse, you can hang the curtains with curtain rods. If you've got a plastic playhouse, you can get away with string stretched across the window. If you want a simple way to shorten the curtains to fit in the playhouse window, you can hem them with iron-on hemming tape.
What kind of paint do you use on a playhouse?
If you've got a wooden playhouse, you're in luck! We stock multi-purpose exterior wood stain that's perfect for playhouses, with colours like cornflower blue, willow green and cedar climbing frame paint.
You'll need a specialist plastic primer and spray paint for a plastic playhouse.