Parents, we hear you! Keeping the kids entertained is no easy task.
Getting them away from their TV or game console and out into the garden can be tricky...and keeping them there can be even harder! Especially if you're short on space and don't have acres of room for large climbing frames, swimming pools or trampolines.
If you're looking for practical, budget-friendly ways to turn your small garden into somewhere your little ones can let their imaginations run wild, you're in the right place. In this guide, we'll show you how easy it can be to transform your outdoor space into every kid's dream play area.
Play area ideas for small gardens
Create a craft station
If your kids love to paint and draw, give them a space to get crafty in your garden with some new creative garden toys!
You don't need much space to set up a craft station, your garden patio or decking could be the perfect spot. Any budding artists will love working on their latest masterpiece whilst sitting at the Rebo Montessori Pikler Style Drawing Station, which attaches onto your little one's climbing triangle as a fun and creative upgrade.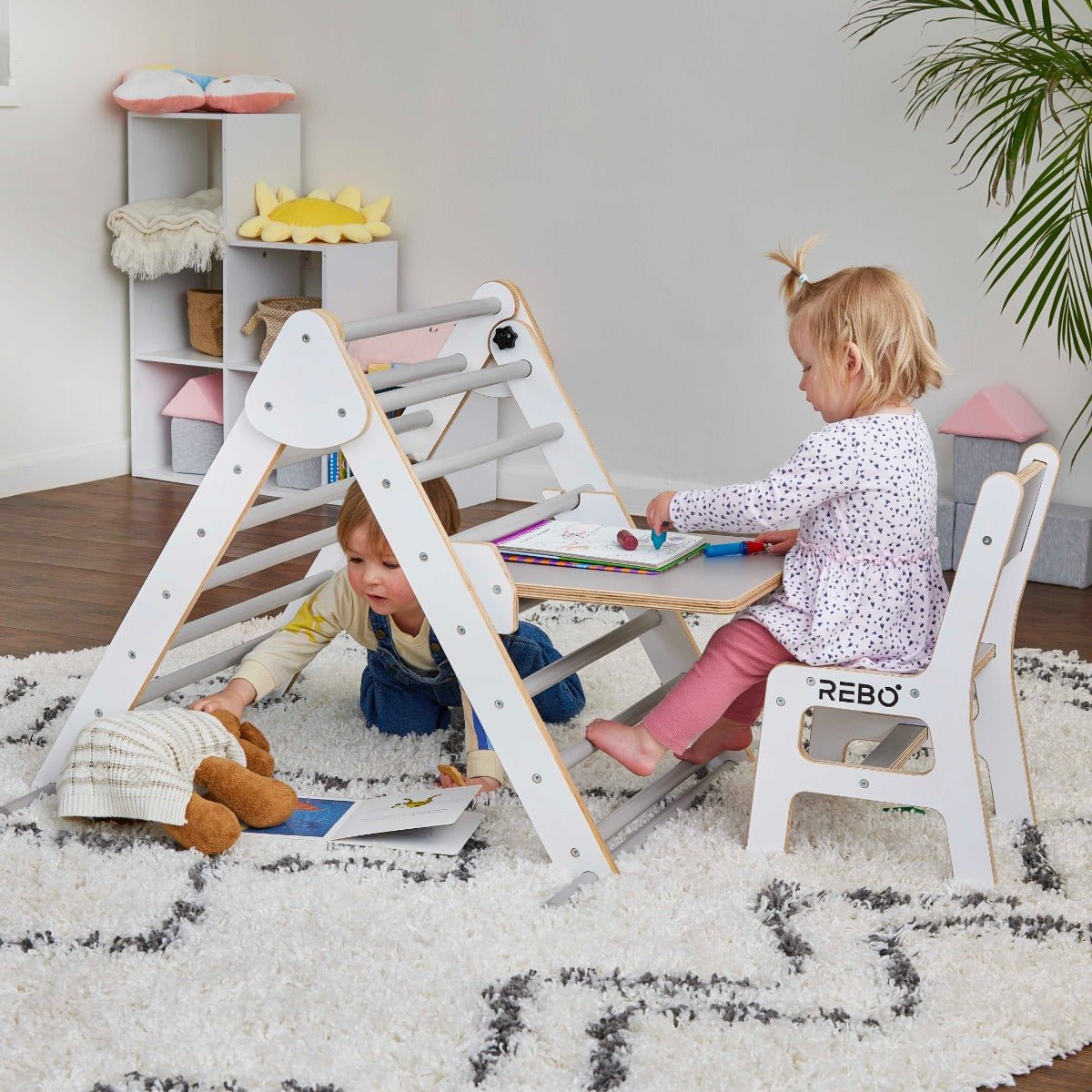 This play area idea will help your little ones nurture their creativity and express themselves through art. Who knows, you might even nudge them towards a career as an interior designer in the process!
Go wet and wild
Get your water pistols ready and let the backyard water war begin!
Small gardens can accommodate many water-based activities, even if you don't have the room for a larger steel-framed pool. Whether your little ones are looking to release some energy or want a fun sensory experience, get wet and wild this summer.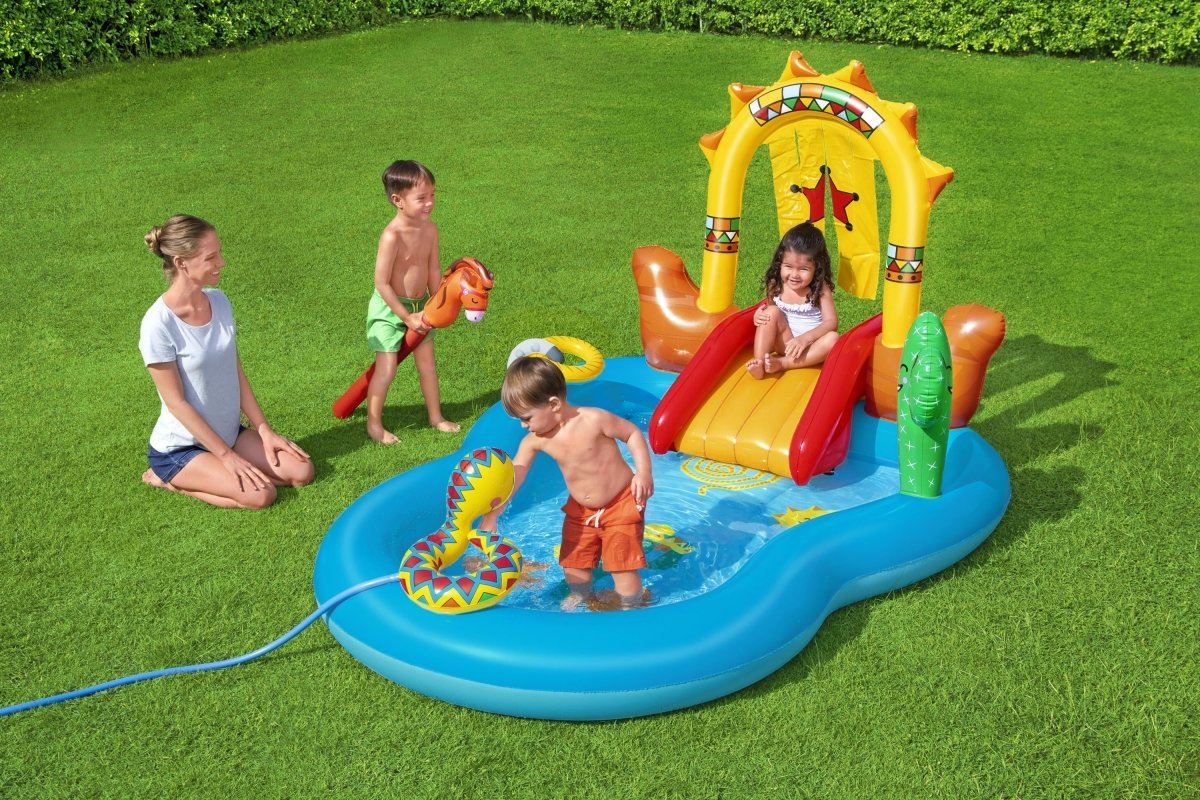 There's no better way to cool off than sitting in a paddling pool, gliding along an inflatable water slide or splashing around with some funky pool inflatables. Although you may have to wear clothes you don't mind getting wet!
Create a magical fairy garden
Transform your garden into a fairy wonderland with twinkling fairy lights and colourful flowers. You could make your garden a truly magical place where the children can let their creativity and imagination flourish.
Embrace the enchantment by adding a whimsical pathway made of stepping stones, leading to secret hideaways that invite the little ones to embark on a delightful journey of discovery. As they follow the trail of stepping stones, they'll encounter fairy nooks, tiny bridges over imaginary streams, and hidden treasures that spark their imagination.
Remember to sprinkle a touch of fairy dust by incorporating small fairy figurines and delightful fairy garden ornaments throughout the landscape.
Climbing frames and walls
Let your little monkeys loose on climbing frames and climbing walls. Watch as they unleash their inner adventurers, scaling the heights and conquering new challenges.
Invest in a sturdy, safe climbing frame that fits well in your small garden, providing endless hours of active play and physical exercise. Alternatively, you can set up a climbing wall on a fence or against a wall, adding an exciting vertical dimension to the play area. Of course, keeping kids safe on climbing frames should be the top priority, so we always recommend adult supervision.
With climbing frames and walls, your kids will have a blast and develop essential motor skills, balance, and coordination while fostering a sense of achievement and confidence in their abilities. For the littlest members of your family, there are also baby climbing frames for you to choose from, so you don't need to take up tons of room with a larger frame.
Wonderful Wendy houses
Create a world of imagination with a Wendy house. These charming playhouses offer the perfect space for your children to embark on endless adventures and let their creativity run wild.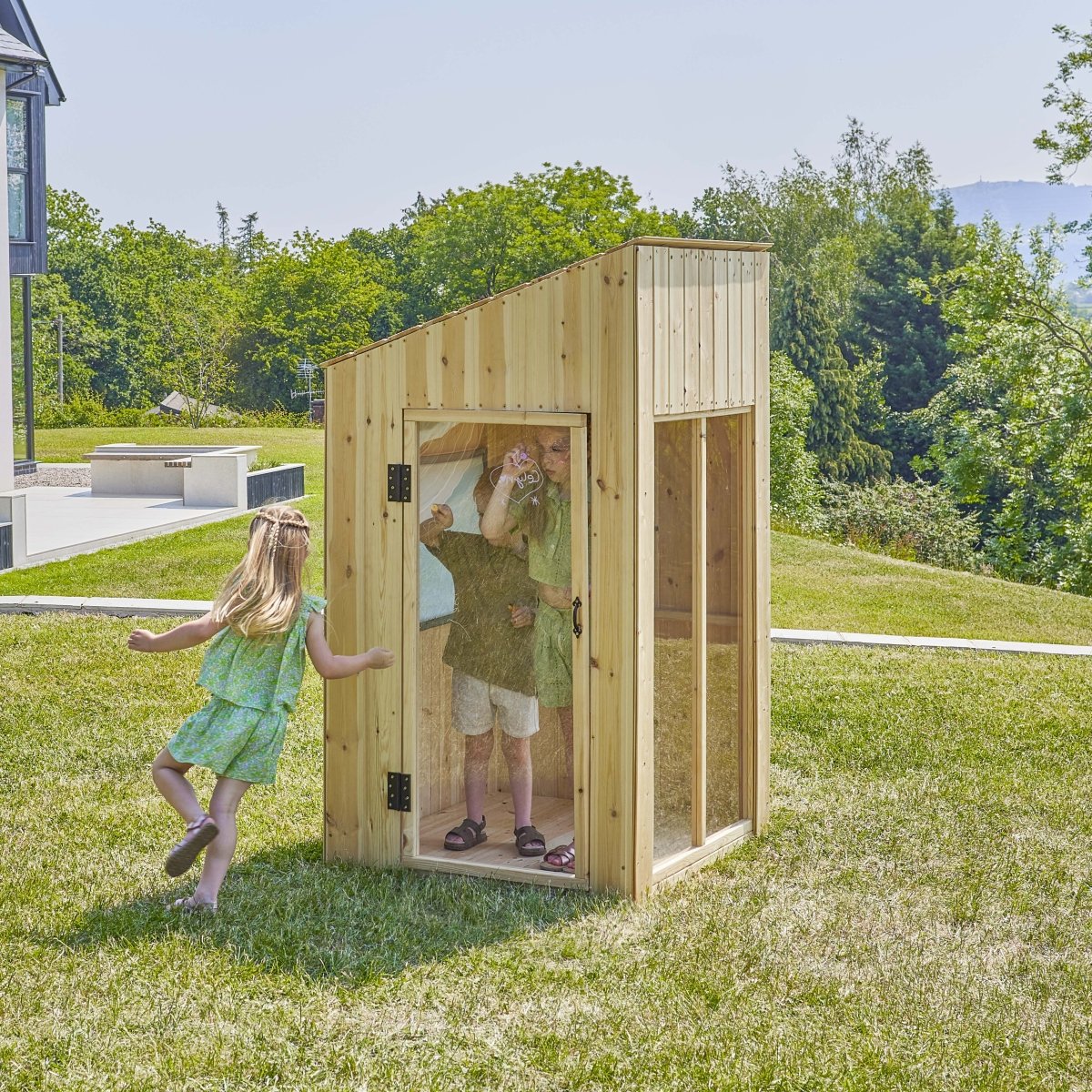 Choose from various designs and sizes to find the perfect Wendy house that fits your garden space. Whether it's a cosy cottage, a magical castle, or a rustic cabin, these playhouses will become a favourite spot for your kids to play house, host tea parties, or invent their own make-believe games.
Customise the Wendy house with colourful paint, curtains, and small furniture to create a personalised and inviting space for your little ones - there are plenty of playhouse interior ideas to choose from. This delightful addition to your garden will provide countless hours of joy and foster social skills and imaginative play in a world built entirely by their dreams.
Slides and swings
Elevate playtime with some classic swings or slides in your small garden. These exhilarating elements will keep your kids entertained for hours. 
Opt for a compact slide or a swing set, like a single swing set, to fit perfectly, encouraging friendly competition and teamwork. They'll have a blast while developing motor skills and creating cherished childhood memories at home.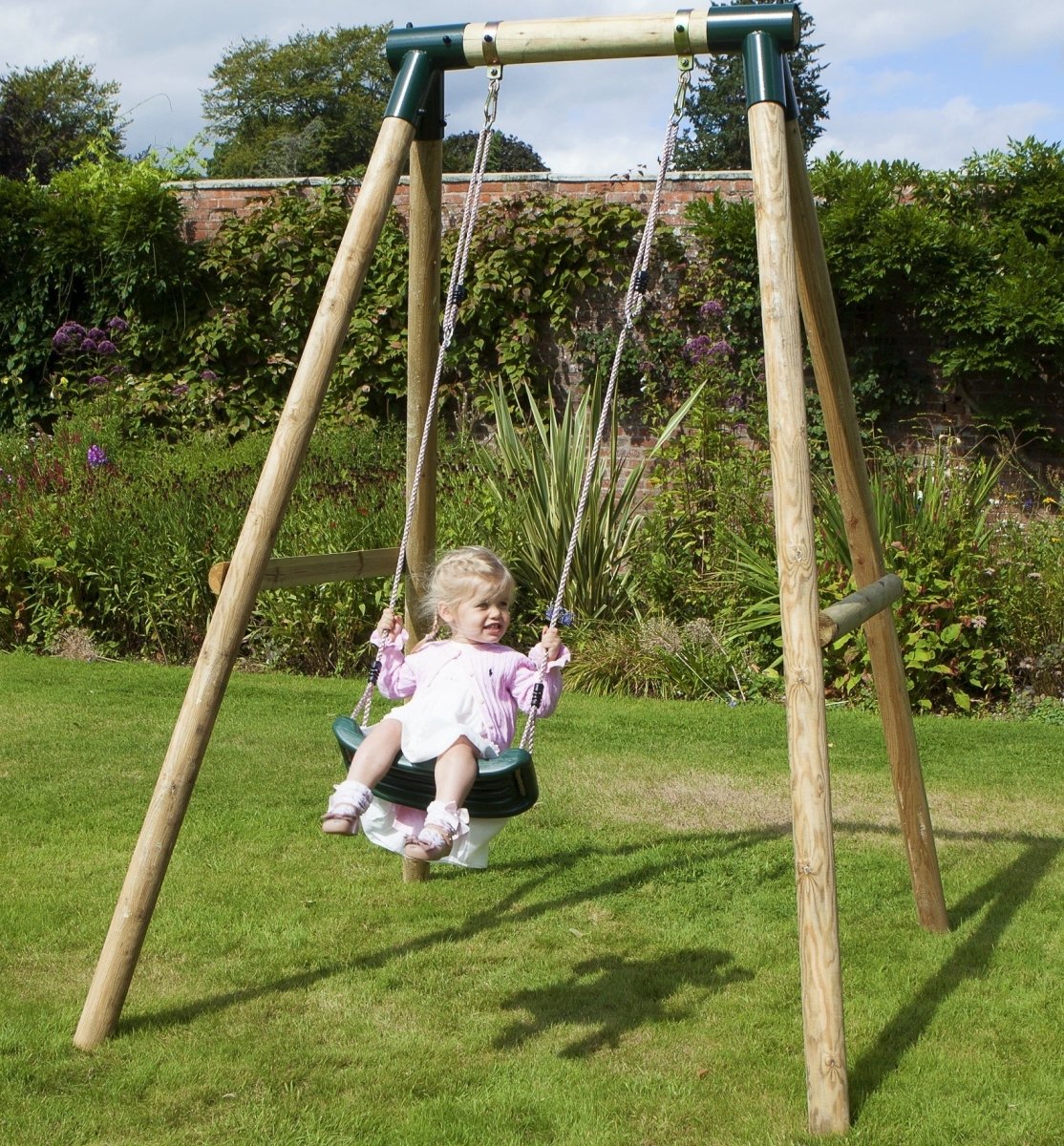 With slides and swings, your small garden will become a haven of laughter and joy, providing endless opportunities for your children to stay active and make the most of their playtime outdoors.
Build your own garden race track
Rev up the excitement with a DIY garden race track that will have your kids racing around your garden. Let their imaginations hit top speed as they become the drivers of their own outdoor adventures!
Start by mapping out a track using chalk or tape, weaving it around trees, flower beds, and other obstacles in your garden. Designate starting and finishing points to add a competitive edge to the races.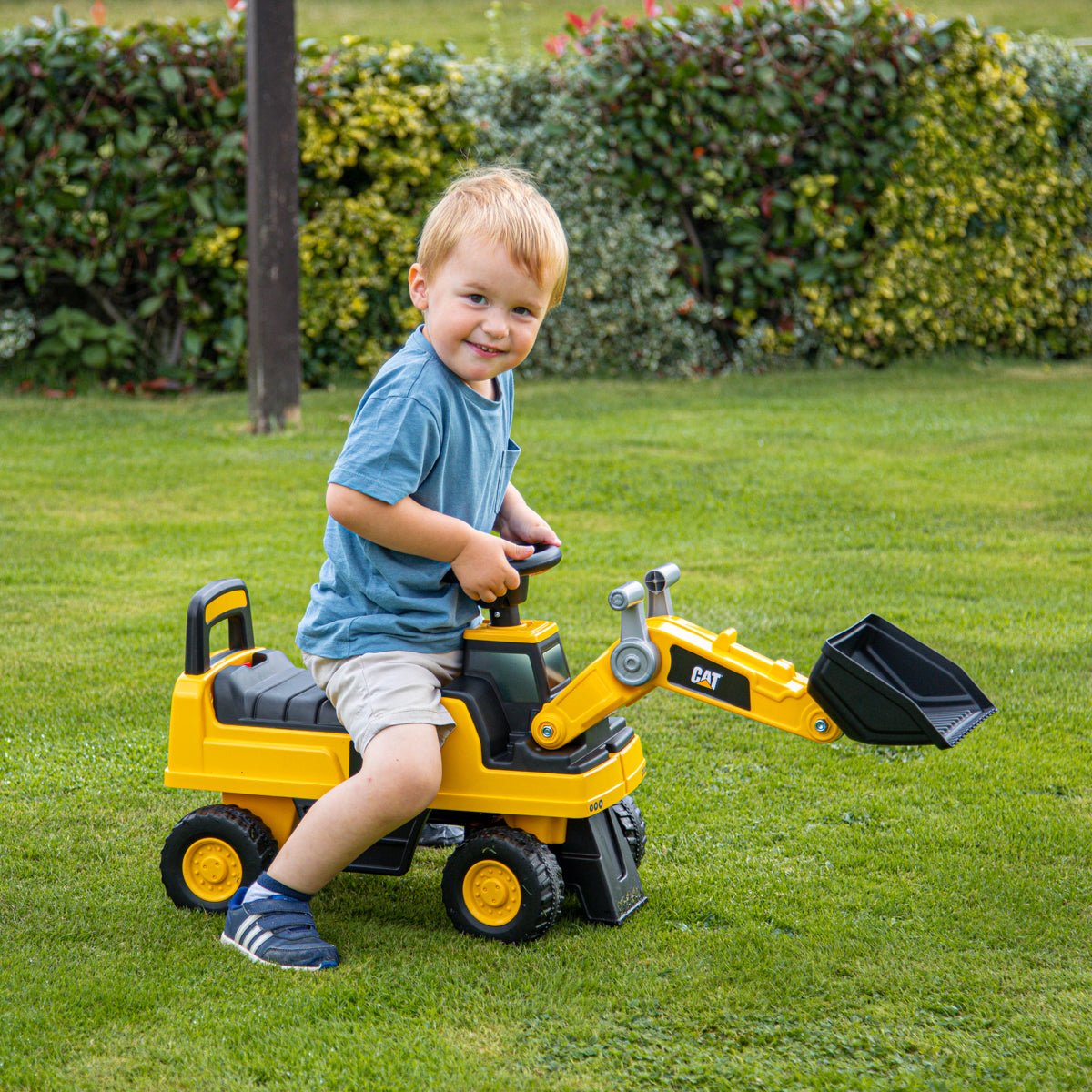 Gather ride on toys like cars, tricycles, or even a ride on tractor, and watch as the little racers zoom (carefully) around the course, navigating twists and turns with enthusiasm.
Get creative and add fun elements like tunnels made from cardboard boxes or ramps constructed from wooden planks and let your little racers have a blast in your garden!
Get cooking with a kids' play kitchen
Ignite your children's culinary creativity with a kids' play kitchen in your small garden. This delightful addition will turn their playtime into a fun-filled cooking extravaganza!
Choose a compact and weather-resistant play kitchen that fits perfectly in your garden space and set it up under a shady tree, on your patio or in a playhouse, creating a delightful outdoor cooking station for your little chefs.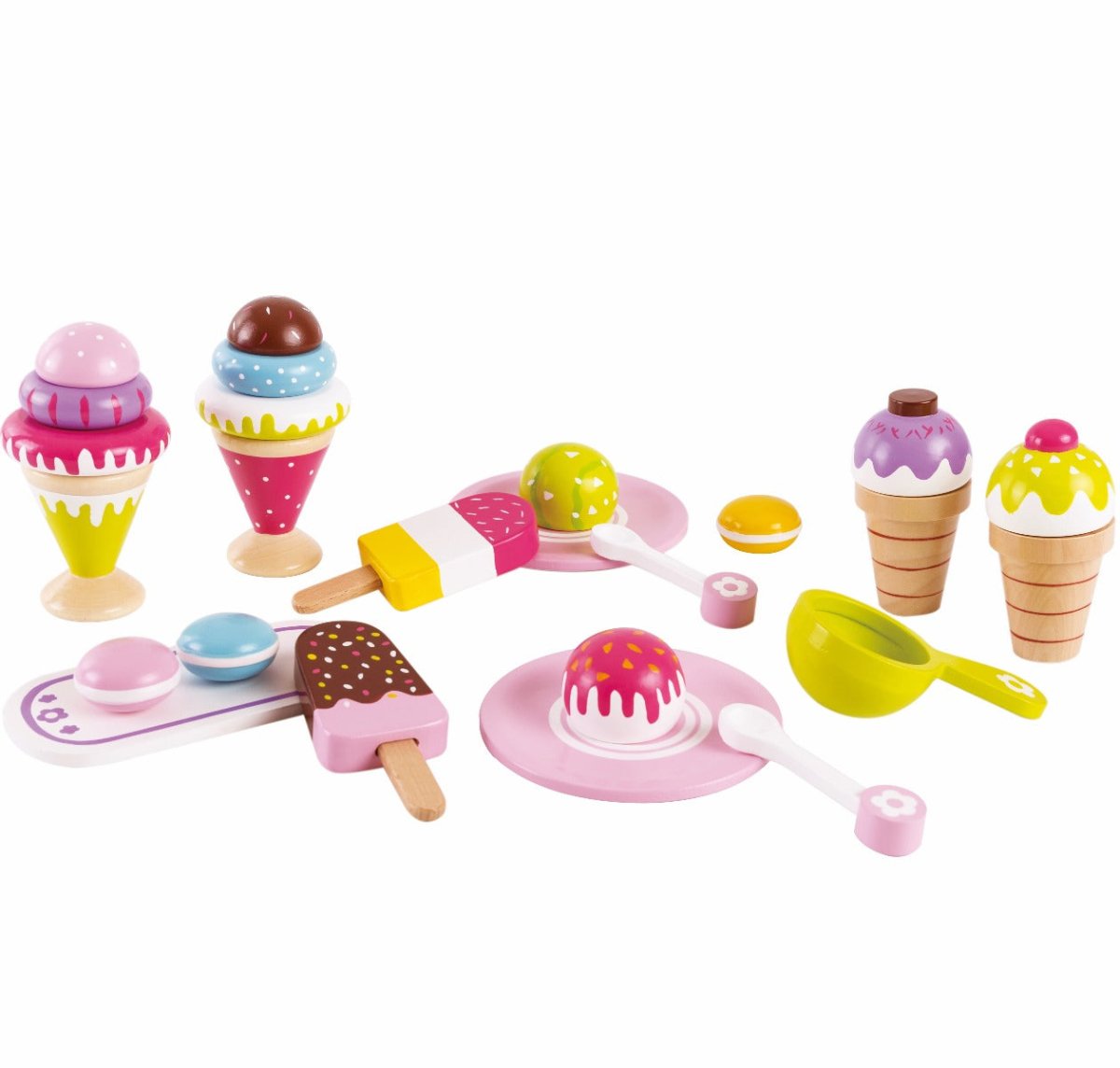 Stock up on kids' kitchen toys like pots, pans, utensils, and food items, allowing your kids to whip up imaginary culinary masterpieces. They can host pretend picnics, BBQ parties, or bake delicious make-believe treats for their friends and family.
Create a pirate paradise
Ahoy there, matey! Transform your small garden into a thrilling pirate paradise where young buccaneers can embark on epic adventures on the high seas!
Start by crafting a pirate ship from a sturdy cardboard box or repurposed playhouses and climbing frames. Add a Jolly Roger flag, rigging, and a captain's wheel to make it feel like a real ship ready to sail the seven seas.
Designate a treasure hunt area, burying "treasure" (costume jewellery, shiny trinkets, or small toys) in a designated spot for the little pirates to discover. Create a treasure map with an "X marks the spot", leading them on a swashbuckling quest to uncover the hidden riches.
Encourage dressing up in pirate attire with eye patches, bandanas, and homemade cardboard swords, so they can fully become fearsome pirates. You could also set up pirate-themed challenges like walking the plank or escaping shark-infested waters. If you already have a climbing frame in your garden, we've got plenty of lookout towers to add on and really help your little pirates survey the seas.
So, set sail and let the pirate adventures begin! Arrr!
Set up a dedicated messy play area
Create a messy play area in your small garden for kids to freely explore and engage in fun, sensory-rich activities. 
Why not get your kids their own mud kitchen to contain the mess and make cleanup easy? These have built-in sections for mud, sand or slime, so you can keep a handle on the mess without stopping your children from engaging in tactile play.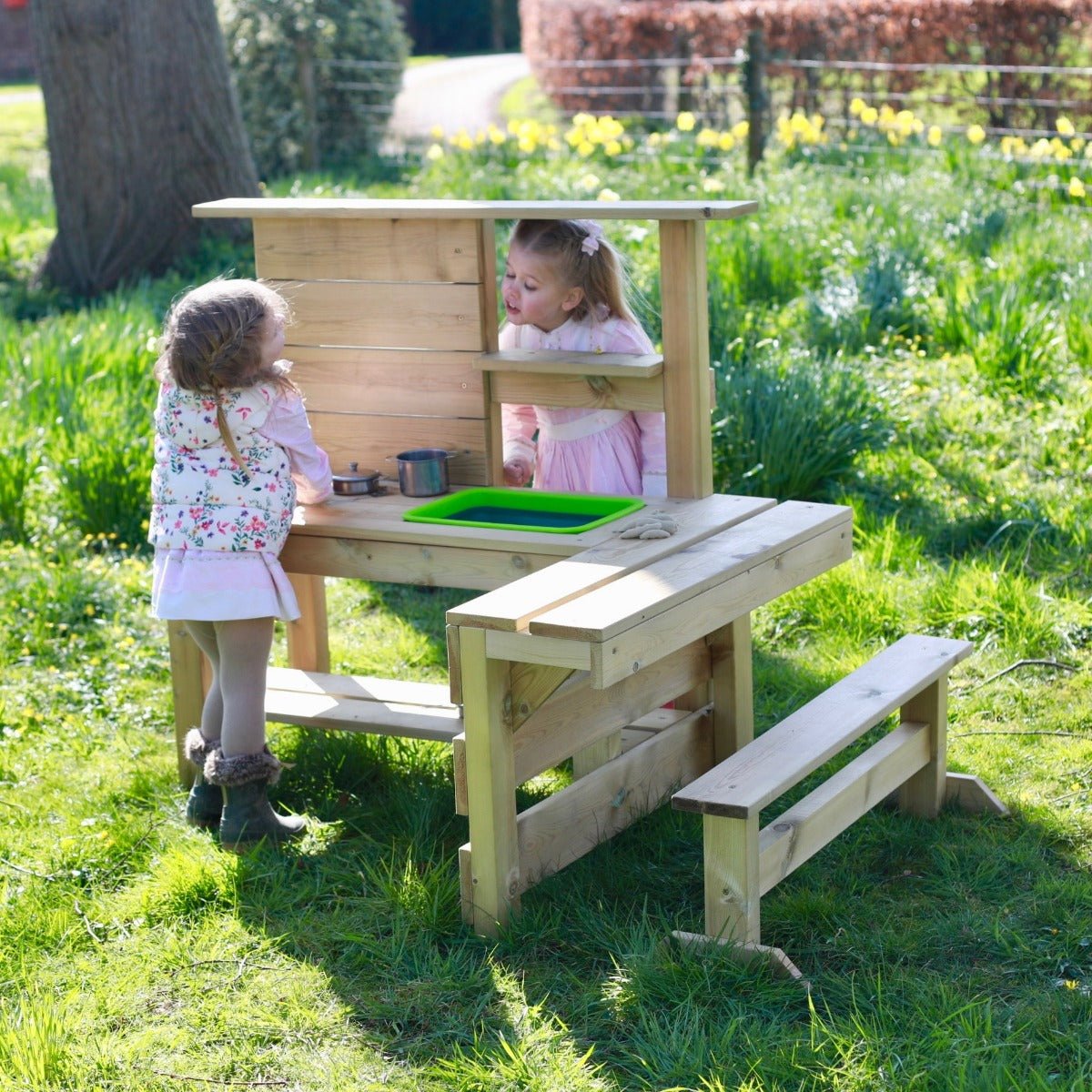 Encourage your little ones to unleash their imaginations and embrace the joy of messy play, fostering a world of creativity and exploration right in your backyard.
A backyard beach
Transform your small garden into a backyard beach, bringing the fun and relaxation of a sunny shoreline right to your doorstep!
Start by laying down soft play sand or a large beach blanket to create a beach-like surface. With a sandpit, incorporate beach toys like buckets, shovels, and sandcastle moulds, allowing them to build and sculpt their very own sandy masterpieces.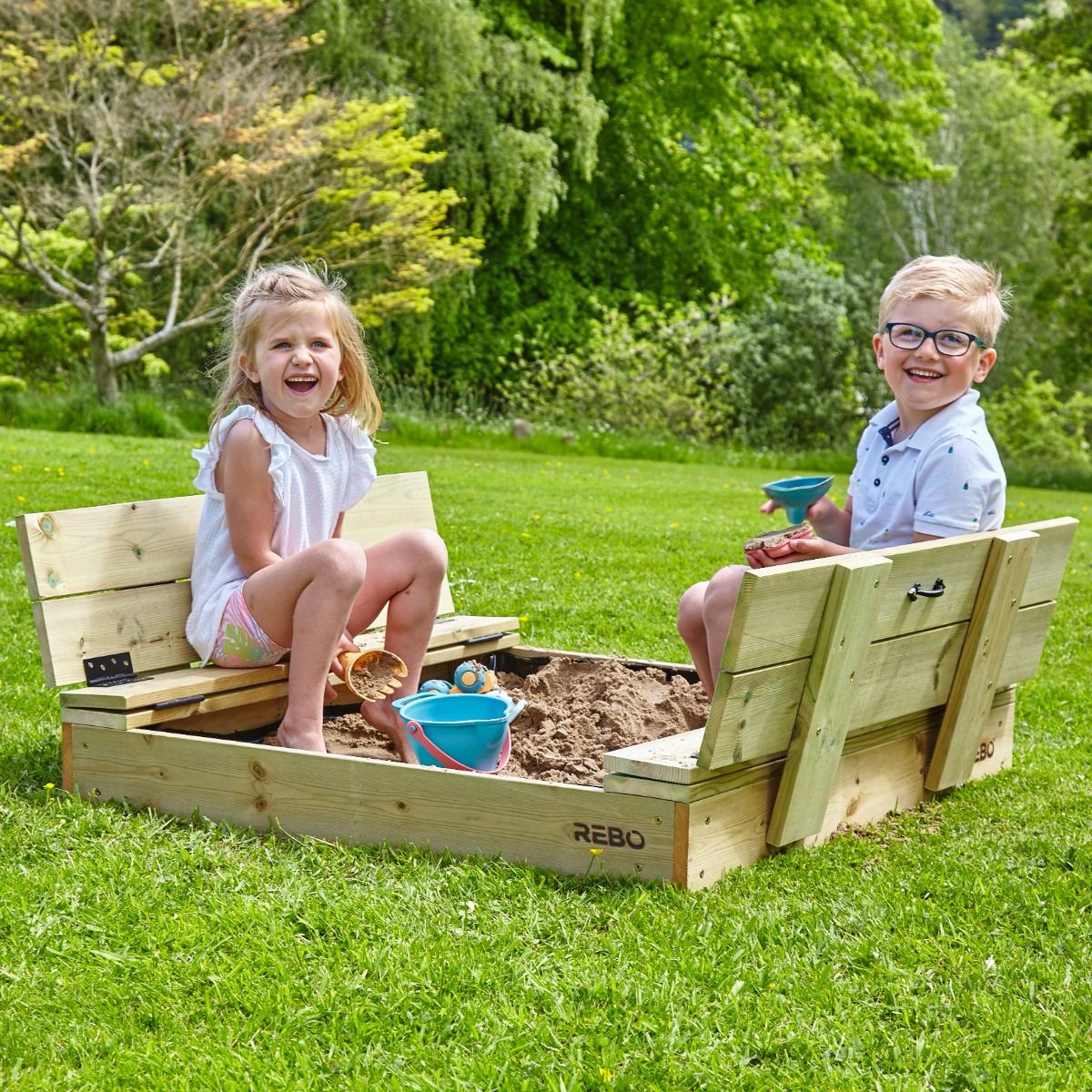 Add a small inflatable or plastic pool to mimic the refreshing ocean waters, providing your kids with a safe and enjoyable splash zone.
Bring the beach vibes to life with a portable speaker playing some tropical tunes, and remember to serve up some refreshing fruit smoothies to complete the beach experience!
Garden play areas with Outdoor Toys!
Here at Outdoor Toys, we know a thing or two about getting kids excited about playing outside! And the benefits of outdoor play for kids are endless. 
Browse our huge collections of high-quality outdoor toys, games and equipment to create the perfect outdoor play area for your kids or grandkids.
Choose an electric ride-on car for your budding race car driver or a model kitchen set inside a garden playhouse for any aspiring chefs in your family. Whatever your kids like playing, you'll find everything they need and more at Outdoor Toys.
Plus, with 48-hour delivery and 0% finance available for qualifying orders, transforming your small garden play area is quicker and more affordable than ever! See our delivery and PayPal credit pages for more information.
FAQs
What small garden ideas are best for older children?
For older children, consider these small garden ideas to keep them engaged and entertained:
Outdoor games area:

Set up an area for outdoor games like badminton, volleyball, or mini soccer. You can use temporary markings, inexpensive sports equipment and garden toys.

DIY obstacle course:

Create a fun obstacle course using items like hula hoops, cones, ropes, and old tires. This will challenge their physical abilities and provide hours of enjoyment.

Movie night:

Install an outdoor movie screen using a white sheet and a projector.

Gardening corner:

Allocate a section for gardening where older children can grow their own vegetables, flowers and raised beds.

Art and craft space:

Set up a space with basic art supplies like drawing materials, paper, and craft items.
How do I create a garden play area on a budget?
Create a budget-friendly garden play area with these low-cost ideas:
Hang an old tire from a sturdy tree branch for a fun swing

Build a simple sandbox with wooden pallets and play sand

Make a DIY water wall with recycled materials

Create a nature scavenger hunt

Use old tires and ropes to create a mini obstacle course
Repurpose and get creative with materials for a wonderful play space without breaking the bank!